. . .and upon this rock I will build my church, and all the powers of hell will not conquer it. Matt 16:18b
I should be writing this blog from Nagpur. We were scheduled to conduct a three day End Times Conference there this week. Two weeks ago the authorities in Nagpur heard that we were coming to present Biblical teaching. We were informed that we could not teach or preach and the conference was immediately canceled.
When we were told about this, both of us felt a great peace. I knew God was protecting us and there was no need to fear or be upset. We canceled our plane tickets and hotel reservation and extended our time for another week at Quiet Corner. Soon after this, Gourab (you can read about him in the 3/15 blog entry) had the motorcycle accident and came to faith in Christ the very next day.
Since that time, we have met with him, Sonu and Guna for Bible Study and prayer every evening. Gourab's faith is taking off. We are slowly going through the Gospel of John. We explain a passage and you can see the lights go on in his head. We are a most unusual group. We teach in English, Guna in turn translates into Tamil, Gourab then translates into Hindi for Sonu.
Two nights ago we talked about baptism. Gourab and Sonu both decided to be baptized. So we met with Pastor Benjamin to have him work with them on preparing for it. One word led to another and Sonu explains that though he was raised in a Christian home, he never asked Jesus to be his savior. After an hour of explaining the gospel, Sonu desired to pray and receive Christ. So Sal led in English, Pastor Benjamin translated into Tamil, Gourab translated into Hindi and Sonu became a Christian.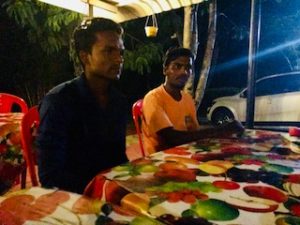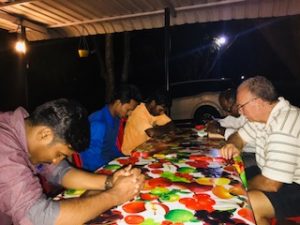 Just imagine, if we had gone to Nagpur we would have missed it all! From the sidelines, our cook , Shiva, has been watching all of this happening. He is a Hindu. In the past two weeks he's begun to read the Bible. He's asking questions and wants to know more about how to know Jesus. Sal plans to speak with him in the coming days.
God is doing something great in our midst. The authorities may think they're in authority, but Jesus said the gates of hell cant stop the message of the cross. The church will prevail. Young men like Gourab and Sonu will know the truth and the truth will set them free. I'm so excited to see young men come to faith and genuinely desire to follow Christ.
Would you please pray for Gourab and Sonu?
Pray also for Guna as he mentors them through the scriptures.
Pray Shiva will fully understand that Jesus is the way, the truth and the life.
Pray for us in the coming days. We leave QCI on Thursday, March 29 for Bangalore. On March 31 we will travel by car to Bellary. Sal is scheduled to preach several times on Easter at different churches. Monday we begin a 3-day End Times Conference. We will travel back to Bangalore on April 5 where we will remain until we fly home to the USA on April 10.
Please pray we can tolerate the heat in Bellary. Temps are topping 103 currently with no humidity. Our friends in Arizona can relate.
Our host in Bellary is a Politician so we are not expecting to be bothered by the authorities. I think the heat will be the greatest challenge. In any event, the words of Jesus strengthen us and give us courage to keep running this race and finish well.
The powers of hell will never conquer His church!
.
Running sports | Women's Nike Air Jordan 1 trainers – Latest Releases , Ietp