It would be impossible for me to write every detail of everything that happens here in India. It seems day by day there are amazing things that occur. One of the greatest blessings is where ever we go new forever friendships are forged. Our lives are enriched and challenged by their faith, labor of love and hope in the soon return of our Lord Jesus Christ.
Sunday we attended a church in Gudalur where Sal was invited to speak. The car could only take us so far and then we had to transfer to a smaller vehicle to navigate the narrow, winding roads. The road ended and we had to continue on foot down a dirt path to a quaint home nestled on the hillside. Attached to the home was a long narrow sanctuary. We were welcomed by Jesu Daas, senior pastor and district overseer of approximately 90 independent churches in the Niligris Mountains. He is 85 years old but does not look a day over 65! He lives with his wife, 2 sons and their wives and grandchildren. They all serve in ministry together.
Sal spoke from 1 Thessalonians 1 on what makes a good church. Most everyone at this church are former Hindus and poor coolie workers. One young mother and her children told us they are secret Christians. Her husband is not a believer and she can only attend church when he's out of town. At the conclusion of the service, Jesu Daas confessed he was a bit nervous about giving his pulpit to someone he hardly knew and a foreigner at that. But he was happy and blessed by the message. The family served us a wonderful lunch. New forever friendships were made on Sunday!
For they keep talking about the wonderful welcome you gave us and how you turned away from idols to serve the living and true God. And they speak of how you are looking forward to the coming of God's Son from heaven—Jesus, whom God raised from the dead. He is the one who has rescued us from the terrors of the coming judgment. 1Thess.1:9-10
Monday we enjoyed the first of three young widow meetings. Twenty five ladies attended. It's been 9 months since we last met. Some shared testimonies while others recited memory verses. Spiritual growth has increased since I last saw them. I spoke to them about God's Umbrella of Grace. At the conclusion, a new widow, Sarojah, accepted Jesus as her Savior and Lord. Another new forever friendship was born!
The monsoon season was especially hard this year. One result was many mangled and broken umbrellas. Due to the generosity of one family, we were able to provide new umbrellas for each widow. Hopefully they will remind them of God's amazing umbrella of Grace that covers those who trust in the Lord.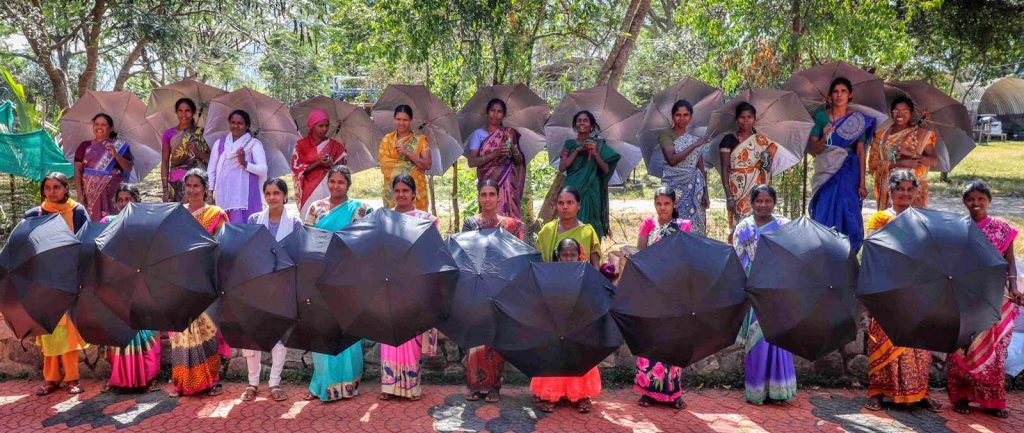 Please pray:
Tomas and Barb are recovering from bad colds. Please pray for all the team to stay healthy.
Our friends, Thomas and Marykutty, are both ill and in need of healing.
This coming Friday and Sunday we'll be in Ooty for 2 one-day conferences. Pray all goes well and the people attending are blessed.
Sportswear Design | Adidas yeezy orange back pack shoes for women V2 'Citrin Non-Reflective' — Ietp