Soon (March 22), we will be back home in the USA. Please keep us in prayer for safe and hassle free travels.
We arrived back here to Bangalore on March 7. Sal did a church conference  last Saturday on End Times. He met with a house group on Sunday and a pastors meeting on Monday. His final message to the pastors was to avoid the mistakes of Israel and receive God's blessings (1 Corinthians 10:1-12). I spoke at a women's conference on Thursday. It was a wonderful event with over 185 ladies in attendance. A number of women responded to the gospel invitation. One Hindu woman named Tamilselvi said she had never heard of Jesus before the meeting. When she heard about who he was, she wanted to know him and follow him.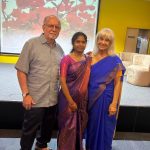 The rest of these days have been spent in meetings regarding future plans. We've met socially with friends and had some fun shopping and drinking chai and eating Indian snacks. Bangalore has become very influenced by western culture. There are more continental restaurants here than ever before. It was fun to introduce Viju to cappuccinos and ravioli.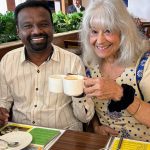 Though we are happy to return home, we are already planning for our next trip. When we return to the states, Sal will be teaching on-line once a month through ZOOM which will be available to everyone and will include Tamil translation. Twice a month he will be disciplining three pastors from Gudalar. Their names are Suresh, David and Raj. They are the first to be enrolled in the CAM Pastoral Discipleship Program. The 16 month curriculum will cover biblical education and practical on-the- job training to build a healthy, mature church body.
It's time for us to decompress and process all we've experienced in these past two months. Three words come to mind….exceedingly, abundantly, above.
The expectations exceeded anything we could have imagined.
The blessing have been abundant.
The answers to prayer have been above what we asked.
The promise of Ephesians 3:20 has held us in God's grip this entire trip.  Now to Him who is able to do exceedingly abundantly above all that we ask or think, according to the power that works in us.
Thanks to all who have followed us, prayed for us and reached out to us with words of support, love and encouragement. We are grateful for you and pray for God to bless you exceedingly, abundantly, above!